NEW: The Multi Rig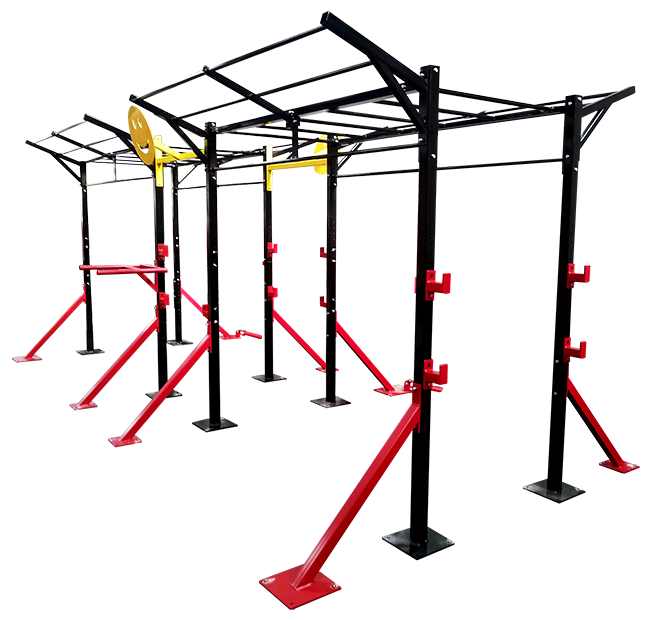 From £4850.00 +VAT
Fully customizable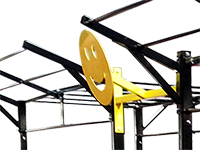 Custom fixtures
Each piece is custom built to order and can be customized in any way you want. This bounce-plate for balls has been customized with a smiling face. You can specify a design for this feature, have the plate any reasonable shape and any size, or omit it entirely.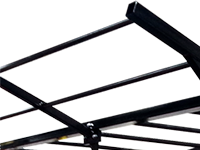 Chin Up Bars
All bars used are solid half inch steel welded in place on heavy duty box section framework. The whole length of the standard Multi Rig is fitted on both sides with dual chin up bars. Pictured is an arrangement of two chin up bars but you can add more as part of your customization.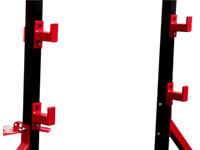 Weights Bar Mounts
Along the vertical supports for the rig are plenty of opportunities to add fixtures such as these weights bar mounts. The ones pictured are fixed in place but it is possible to manufacture the rig so that you can use adjustible supports, much like a power cage. Please let us know exactly what you want and we can get a quote for you.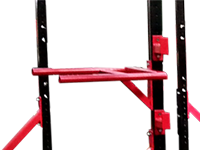 Dip Bars
An attachment of bars for dips, leg raises or other exercises where you support your own weight on your hands at waist level. These make useful attachment points for rubber bands used in plyometrics training.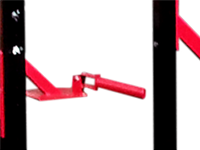 Olympic Bar Pivot
The Multi Rig has multiple attachment points for olympic standard weightlifting bars. This pivot attachment at ground level is designed to be used for T-Bar row. Insert any length olympic standard bar and you can integrate rows in to your Multi Rig workout.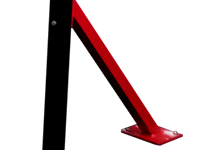 Floor Mounts
The standrd Multi Rig is designed around sturdy mounts that permanently attach your equipment to the floor. As each piece is custom built you can also attach your rig to a suitably robust wall. Please contact us for details about what is available in terms of mounting and fixing your equipment.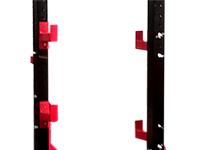 Internal Olympic Bar Rests
Customizing your Multi Rig is easy, you can have your attachments almost anywhere you'd like them to be. Shown here are internal mounts for Olympic weight lifting bars that run across the width of the Multi Rig. Multiple mounting points are available, as well as removable attachments.